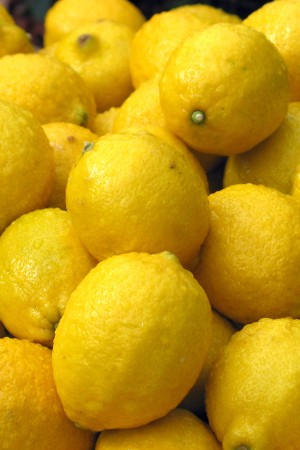 Here in the Northwest, our summers are short.  We patiently (and soggily) wait for months on end for her grand arrival.  By spring, we all have webbed feet.  In June, the anticipation is palpable while we cross fingers for a dry Fourth of July.  Come July 5th, it finally happens…Yes, 'July 5th'.  For that is the start of our summer.
Fortunately, we are rewarded greatly: Our days are hot but not too hot.  Our landscape is lush, gorgeous, green and worthy of postcards.  Our views are flanked with sparkling mountain vistas.  Outdoor pursuits of every kind beckon.  Nature's bounty astonishes and farmers markets thrive every single day of the week.  Summer here is unwittingly quick and frustratingly short, but it is our delicious redemption for the typically long, trying, wet winter and spring.  There simply is no other place on earth to be.  Aside from the beach, we stay put and savor every drop of the long days.
Fall officially graces us tomorrow.  For me, it is bittersweet.  Memories of my little ones over the summer are vivid and endearing: playing on the beach, stained hands and faces from berry picking, fishing, gardening, picnicking, LOADS of laughing, LOADS of ice cream and the requisite running around buck naked.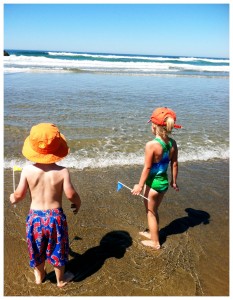 At ages 3 and 4, my Irish twins are full of personality, intellect, and wit.  The only constant with them is growth.  I remind myself with a heavy sigh that it is the only summer that they will ever be 3 and 4.  I will myself to never forget this phase…this exact season of life.  Seemingly mundane but void of exactly that.
Fall has teased us for a few weeks.  Have you noticed her presence?  The morning air is crisp, fresh, invigorating, and signifies change.  Leaves wear shades of red, orange, and yellow, promising even more brilliant saturation to come.  These cues, for me, evoke thoughts of cinnamon infused baking, comforting soups & stews, my well worn Frye boots, and trips with the little ones to the pumpkin patch and apple orchards.
I find that the cusp of a season has transformative power.  It is capable of refreshing your outlook, giving vigor and hope, starting anew and replenishing in your own unique way.  Fall is no exception.  In my opinion, it is the most striking transition of seasons.  Blazing hot to cool.  The last batch of 92-degree days practically made me melt!  The nature of foods and methods of preparation also undergo change.  Think root veggies and stewing, braising and roasting.  I love it all.
What I don't love is the early rain.  Let us have hope for a long, sunny and dry Indian summer.  PLEASE.  We deserve it.  Should I remind you again when summer actually begins in these parts?  There have been years where we have been robbed of our Indian summer, and without that last sunny hurrah, the beguiling jewels of fall disappoint.  The umpteen months of doom and wet gloom will come soon enough and summer will be all but a distant memory.
Recently, in the last few waning days of summer, we indulged in Lemon Bars.  I hadn't made these in quite a while.  Vibrantly yellow and lovely in their simplicity of flavor, they seem to be the embodiment of summer.  Think tart & sweet consumable happiness.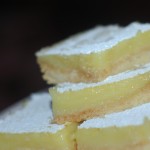 Another plus is that the kids loved juicing the lemons and used the lemon "shells" for further kitchen experimenting (aka making a huge mess).  An activity for a rainy day perhaps?
I had to take a mental note: when I grow tired of wearing rainboots and the bug for sunshine hits hard, Lemon Bars to the rescue.  And you, friend, if you find yourself longing for those beloved sun filled days, whip up a batch and see what it does for your disposition.  Take warning, they will fill you with all sorts of summery sentiments:
Barefoot episodes
Picnic lunches
and
LONG, DOG DAYS
Lemon Bar Recipe
Crust
1 ¾ cups all-purpose flour
2/3 cup confectioners' sugar, plus extra for dusting baked bars
¼ cup cornstarch
¾ teaspoon salt
12 tablespoons unsalted butter, chilled and cut into 1-inch pieces
Lemon Filling
4 large eggs, lightly beaten
1 1/3 cups granulated sugar
3 tablespoons all purpose flour
2 teaspoons grated lemon zest, plus 2/3 cup juice (4 lemons)
1/3 cup whole milk
¼ teaspoon salt
For the crust: Preheat oven to 350 degrees.  Lightly spray a 9 x 13 inch baking pan.
Process flour confectioners' sugar, cornstarch and salt in food processor until combined, 15 seconds.  Add butter and process to blend, 8-10 seconds, then pulse until mixture is pale yellow and resembles coarse meal, about 3 pulses.  Sprinkle mixture into prepared pan and press firmly with fingers into even ¼ inch layer over entire pan bottom and about ½ inch up the sides.  Refrigerate for 30 minutes, then bake until golden brown, about 20 minutes.
For the filling: Whisk eggs, sugar and flour in medium bowl then stir in lemon zest and juice, milk and salt to blend well.
Reduce oven temperature to 325 degrees.  Stir filling mixture to reblend; pour into warm crust.  Bake until filling feels firm when lightly touched, about 20 minutes.  Transfer pan to wire rack; let cool to near room temperature, at least 30 minutes.  Cut into small squares and use a sieve to coat top with confectioners' sugar.
Bars can be refrigerated up to 2 days.  The crust will soften slightly.
Pucker up and enjoy!