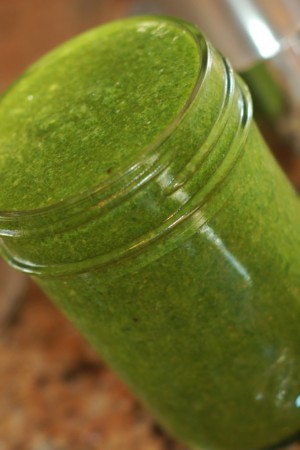 Sauces seem to be the culinary blueprint to a culture.  They can run the gamut from the traditional to the lesser know and loosely "sauce" related (think pestos, salsas, mignonette, coulis, chutneys just to name a few).  My fascination with sauces started long ago when I was fresh out of college.  Upon my purchase of James Peterson's award winning compendium aptly titled "Sauces" (a worthy addition to any serious cookbook library, pinky swear), I started tinkering away in the kitchen.  Don't be fooled, I'm no master of sauces in the general sense, but over the years I've honed my skills and can rock quite a few.  The best ones, my go-to favorites, are those that are relatively quick.  And the reason?  Those little cherubs of mine, ages 2 ½ and 3 ½, well, they contrive all sorts of mischief when left to their own devices for more than, say, 5 minutes.
One of my favorites this summer is Chimichurri.  Bold, vibrantly green, and bracing.  If you're not familiar with the real green goddess, then an introduction is in order.  Chimichurri is a popular sauce used with grilled meats in many Latin American cuisines and it is usually the only seasoning for steak and chorizo sausages in Argentine asados.
If you come away with nothing else, just know it's EASY, QUICK, and has the power to transform simple grilled meats.
The herbal flavor is matched by the assertive acid and garlicky goodness.  Chimichurri can nudge you or KICK you…all depends on your affinity for garlic.  I have found that one or two cloves work well in my recipe, more will bite you back, but perhaps you're into that.  History is clear about the best application; Chimichurri beckons for a juicy piece of meat with just a hint of charring (confession: I like a lot of charring) and a big, fat zinfandel.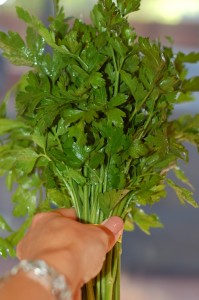 With only a handful of ingredients (flat leaf parsley, olive oil, vinegar, garlic and some spices), there couldn't be an easier way to sass up grilled meats.  Additionally, I've tried my summertime staple on grilled veggies (corn, Walla Walla onions, purple potatoes and zucchini), drizzled on fresh heirloom tomatoes, and atop scrambled eggs.   It can also be used as a marinade.  Just be sure to discard the marinade, once the meat goes on the grill for food safety reasons.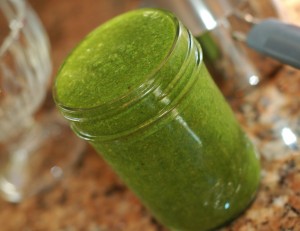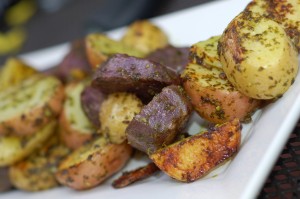 Chimichurri
This recipe is has a sauce consistency although some versions are less saucy as they are mixed.  My version is quick with no chopping.  Thank you God for food processors.
Let this recipe be an inspiration and your palate you guide.  Adjust the flavor as you go.  Try additional herbs, cilantro is a popular addition, or consider imparting a smoky profile by the addition of chipotle peppers (canned in adobo or dried flakes).
Ingredients
4 cups flat leaf parsley (about 1 bunch from store)
½+ cup olive oil
3 tbsp red wine vinegar
2 garlic cloves
Tiny pinch dried crushed red pepper flakes
½ tsp ground cumin
½ tsp sea salt
Cracked black pepper (about 10-15 turns)
Method:
Puree all ingredients in a food processor.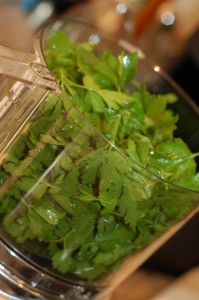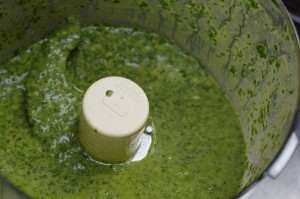 Taste for salt and pepper level.   Also adjust for vinegar level and you can add up to a 1/8 cup more olive oil if you prefer a thinner sauce.   Remember that this is not eaten on it's own but rather as a flavor enhancement to a variety of dishes.  Transfer to a bowl.  Can be made 2 hours ahead.  Keeps in the refrigerator for up to 3 days.
The sauce can be used to marinate meat before grilling.  Marinate at least one hour; can marinate up to 8 hours or overnight.  Remove meat from the marinade and grill.
Orange Cumin Skirt Steak Marinade
1 ¼ lb skirt steak
1 ¼ cup orange juice
4 tbsp avocado oil
4 tbsp soy sauce
½ tsp garlic powder
1 tsp ground cumin
Pinch cayenne
Marinate 3 hours or overnight.  Grill to your preference.  My husband Matt insists that meat needs to be cooked incredibly fast or incredibly slow.  For this skirt steak, high heat and fast is best!  Let the meat rest for at least 10 minutes before slicing.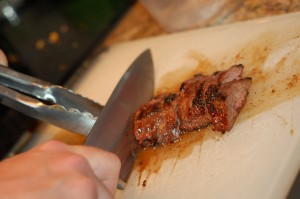 Best Damn Steak Wrap
Arrange the following ingredients to your liking:
Sliced Orange Cumin Skirt Steak
Arugula
Pine nuts
Cherry tomatoes
Sliced or diced avocados
Tortilla, lavash, pita, naan, or whatever wrap-like vehicle you desire!
Splash balsamic vinegar
Generous topping of Chimichurri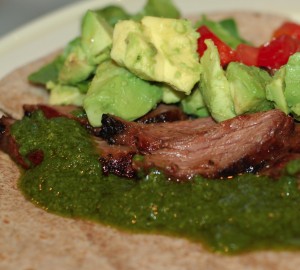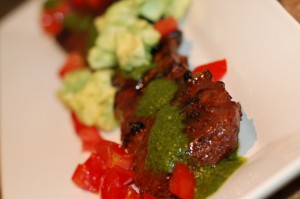 Don't forget the Zin.